managers and sponsors specialized in biomedical research
Magnetic Resonance Imaging
Contact
José Castillo / Ramón Iglesias Rey
Magnetic resonance imaging is perhaps the most versatile neuroimaging technique available today. The use of this platform in its different versions (anatomical, functional, spectroscopy and molecular imaging) allows you to carry out a full non-invasive (in vivo) and longitudinal monitoring of the process associated to neurovascular diseases over time and other processes including plasticity, reorganization and functional recovery in animal models.
With the high-field preclinical Magnetic Resonance Imaging Unit (9.4 T) for the in vivo/ in vitro study of small animals (rat/mouse), you can capture anatomic and cardiac images for their use in studies of different pathologies. In vivo studies can be carried out by means of contrast probes (specifically designed nanoparticles) in order to achieve a immunospecific contrast.
The applications of the Magnetic Resonance Imaging Unit include:
Anatomical Studies: tumours, inflammation, degenerative diseases, neurovascular diseases.
Functional studies: cerebral perfusion, vascular permeability, in-vivo metabolic profile, etc.
Pharmacokinetics and biodistribution of new contrast agents.
In-vivo location and monitoring of drug and cell therapy administering.
Rat/mouse heart imaging (CINE collection sequence)
The work of the Platform is focused on the separation, identification, quantification and characterization of proteins in biological systems by means of multidimensional liquid chromatography and mass-spectrometry-based proteomics analysis. Our laboratory is specialized in a wide range of approaches to support proteome-related studies, from the identification and quantification of individual proteins, to the complex analysis of samples in different biological systems. In addition to this, the platform collaborates with other groups in the research and search of appropriate experimental designs, assisting in the writing of papers, analysis and result validation, among other tasks.
Moreover, in addition to our main line of work as a service, we also carry out our own research, developing projects focused on protocol optimization, equipment updating and the introduction of new techniques to offer the most comprehensive and innovative services.
Services
High-field preclinical Magnetic Resonance Imaging Unit (9.4 T);
ParaVision®6 Software;
Bruker BIOSPEC 94/20 (440 mT/m gradient system);
Surface coils for rat and mouse brain imaging;
Volume coils for rats, mice and small animals;
Surface coils for rat/mouse heart imaging;
Surface coil for 1H spectroscopy;
Electrical stimulator for fMRI;
Inhalation anaesthesia system, animal breathing and temperature monitoring (SA Instruments, Inc., USA)
Current fees (without VAT)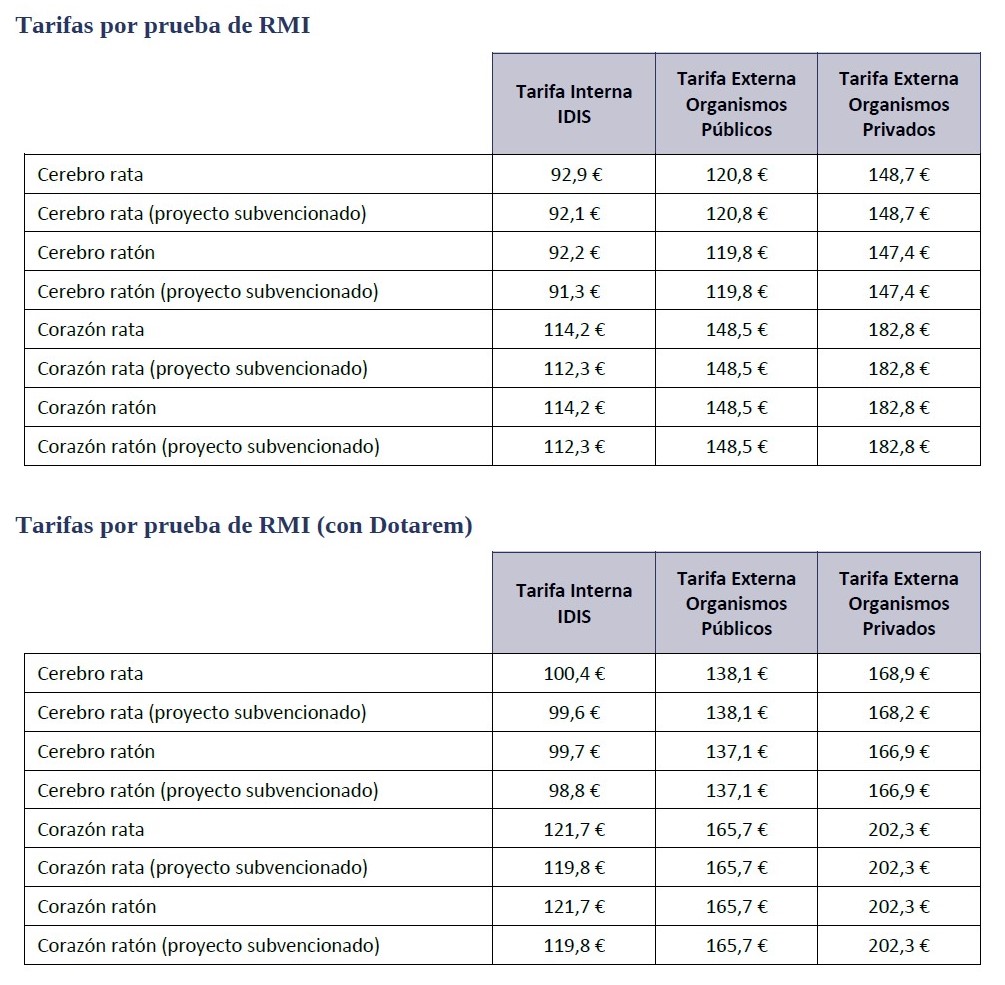 Contact Us
Would you like more information? Please feel free to contact us by filling out our form