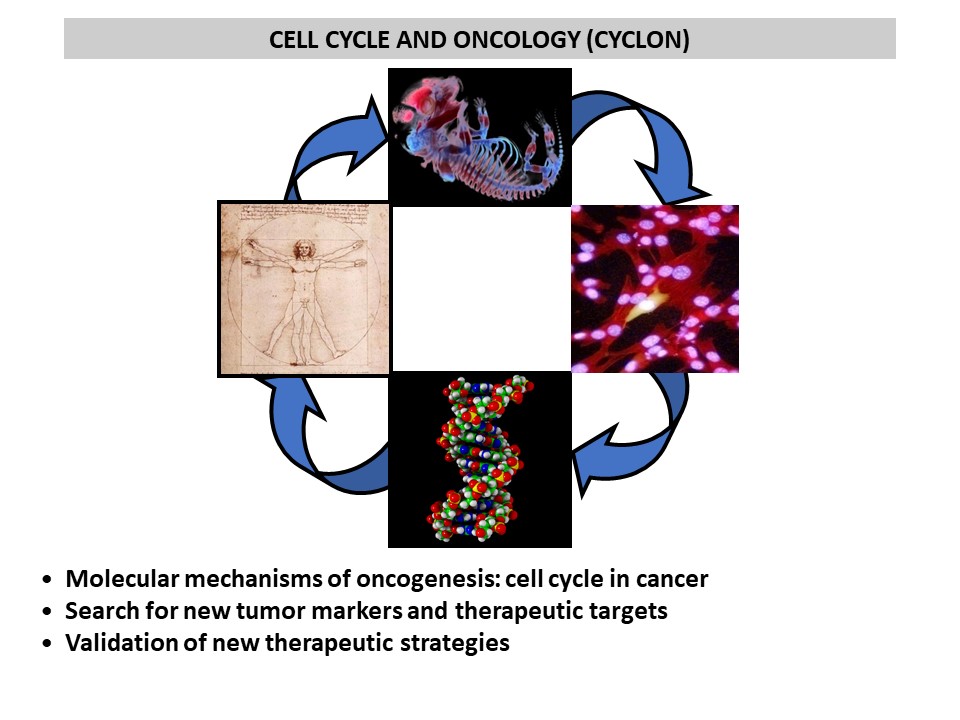 Objectives and lines of research
Objectives
A major goal of the group has been to study the roles of cell cycle inhibitors in cell cycle regulation and tumorigenesis.
In recent years, the group has focused in exploring new therapeutic strategies for cancer.
Lines of research
Evaluation of nanomaterials as new therapeutic strategies in cancer.
Development of refined animal models of advanced cancer.
Publications
Vilas JM, Carneiro C, Da Silva-Alvarez S, Ferreiros A, Gonzalez P, Gomez M, Ortega S, Serrano M, Garcia-Caballero T, Gonzalez-Barcia M, Vidal A*, Collado M*. Adult Sox2+ stem cell exhaustion in mice results in cellular senescence and premature aging. Aging Cell 17(5): e12834 (2018). doi: 10.1111/acel.12834
Ferreiros A, Pedrosa P, Da Silva-Alvarez S Triana-Martinez F, Vilas JM, Gonzalez P, Gomez M, Li H, Garcia-Caballero T, Gonzalez-Barcia M, Vidal A*, Collado M*. Context-dependent impact of RAS oncogene expression on cellular reprogramming to pluripotency. Stem Cell Reports. 12(5):1099-1112 (2019). doi: 10.1016/j.stemcr.2019.04.006IF
Triana-Martínez F, Picallos-Rabina P, Da Silva-Álvarez S, Pietrocola F, Llanos S, Rodilla V, Soprano E, Pedrosa P, Ferreirós A, Barradas M, Hernández-González F, Lalinde M, Prats N, Bernadó C, González P, Gómez M, Ikonomopoulou MP, Fernández-Marcos PJ, García-Caballero T, Del Pino P, Arribas J, Vidal A, González-Barcia M, Serrano M, Loza MI, Domínguez E, Collado M. Identification and characterization of Cardiac Glycosides as senolytic compounds. Nat Commun. 2019 Oct 21;10(1):4731. doi: 10.1038/s41467-019-12888-x
Ledo, A.M., Senra, A., Rilo-Alvarez, H., Borrajo, E., Vidal, A., Alonso, M.J., Garcia-Fuentes, M. mRNA-activated matrices encoding transcription factors as primers of cell differentiation in tissue engineering. Biomaterials. 2020 Jul; 247:120016. doi: 10.1016/j.biomaterials.2020.120016
El Motiam A; de la Cruz-Herrera CF; Vidal S; Seoane R; Baz-Martínez M; Bouzaher YH; Lecona E; Esteban M; Rodríguez MS; Vidal A; Collado M; Rivas C. SUMOylation modulates the stability and function of PI3K-p110β. Cellular and Molecular Life Sciences, 2021, 78(8): 4053-4065. doi: 10.1007/s00018-021-03826-6