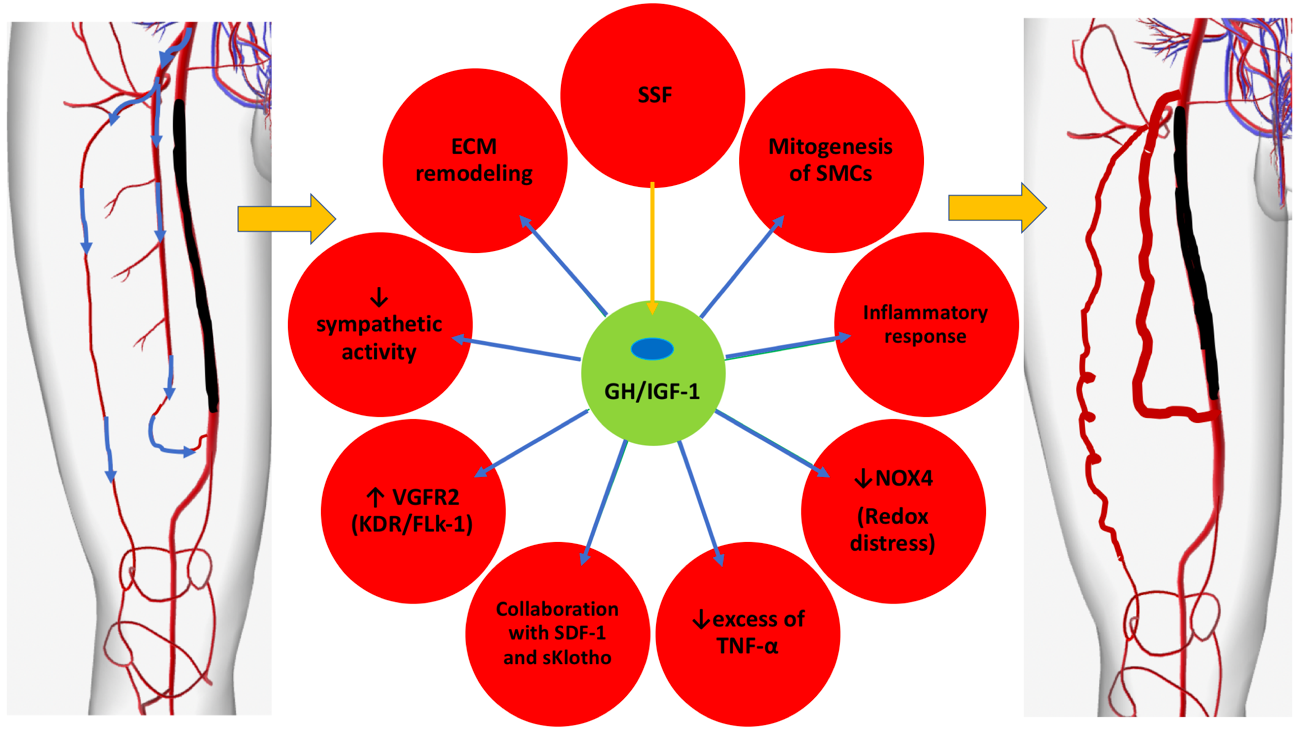 Objectives and lines of research
Objectives
We carry out experimental studies and clinical trials in relation to topics of our specialty.
Lines of research
Clinical trials with endovascular prostheses and new mechanical thrombectomy systems
Clinical trials of angiogenesis and/or cell therapy
Experimental studies to demonstrate the usefulness of PET/SPECT in lower limb ischemia or vascular prosthesis infection
Development of 3D printing and simulation for training vascular surgeons
3D bioprinting for the development of smart deposits
Nanotechnology applied to the development of smart stents
Publications
Diego Caicedo, Sihara Pérez, Clara V. Álvarez, Jesús Devesa. Genetics of vascular inflammation in lower limb ischemia: The TNF-α hypothesis in peripheral arterial disease. Biomedicines. preprints.org/manuscript/202112.0041.
Caicedo, D., Pérez Romero, S., Álvarez Villamarín, C.V.,Devesa Múgica, J. TNF-α mediates inflammation and damage in patients with chronic limb-threatening ischemia: Molecular insights from the GHAS trial. EJVES Vascular Forum. Accepted. Awaiting publication.
Caicedo, D., Devesa, P., Alvarez, C., Devesa, J. Why Should Growth Hormone (GH) Be Considered a Promising Therapeutic Agent for Arteriogenesis? Insights from the GHAS Trial. Cells. 2020. 9(4): 807. doi

:

10.3390/cells9040807
Caicedo D, Karkos CD, Moy Petersen JC, Fernandez JR, Gonzalez RF. Emergency Endovascular Management of a Symptomatic Pseudoaneurysm of the Left Subclavian Artery Ostium Using a Combination of an Abdominal Aortic Stent-Graft Extension Cuff and a Periscope Stent Graft. Ann Vasc Surg. 2019 Feb;55:307.e13-307.e17. doi

:

10.1016/j.avsg.2018.06.033
Diego Caicedo Valdés, Pablo Devesa Peleteiro, Amalia Pazos González, Laura Romero Vázquez, Manuel Martínez Pérez, Victor M. Arce Vázquez, Jesús Devesa Múgica. Evaluation of reperfusion after therapeutic angiogenesis with photoplethysmography in a murine model of lower limb ischemia. Angiology. 2019. 71(4) :127-134.
Devesa J, Caicedo D. The Role of Growth Hormone on Ovarian Functioning and Ovarian Angiogenesis. Front Endocrinol (Lausanne). 2019 Jul 16;10:450.