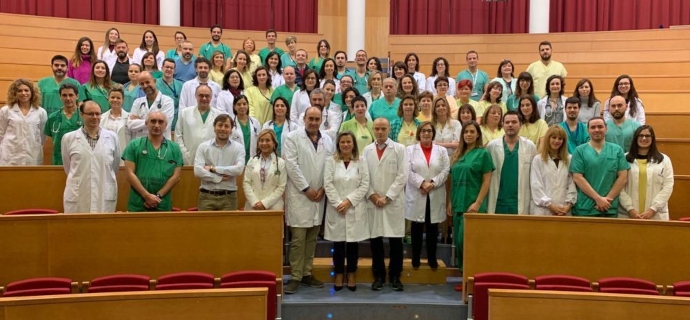 Objectives and lines of research
Objectives
The cardioCHUS research group was established in 2000 under the Cardiology Service of the Santiago de Compostela University Hospital Complex, with the mission of contributing to improving the cardiovascular health of the population. For this, the cardioCHUS group develops an intense research, clinical and translational work, whose objective is to implement new prevention, diagnostic and therapeutic strategies that improve the quality of care and the prognosis of cardiovascular patients. Currently, the cardioCHUS group is accredited as one of the Competitive Reference Groups of the Galician Innovation Agency and is rated as one of the 10 best cardiovascular research groups in Spain since the establishment of the Cardiovascular Area of ​​the Center for Biomedical Research Network, CIBERCV, in 2017.
Lines of research
Identification of new diagnostic/prognostic biomarkers and new therapeutic targets associated with:
– Pathophysiology of heart failure (HF) with preserved ejection fraction (HFpEF). REDINSCOR III
– Atrial fibrillation "de novo" in patients with HF: incidence; predictors and relevance. FAISCA Study
– HF patients undergoing cardiac resynchronization therapy (CRT)
– Brugada syndrome
– Cardiac amyloidosis
Monitoring of cardiac function during treatment with cardiotoxic agents in antineoplastic therapy and identification of cardioprotective strategies, treatment with spironolactone and b-blockers
Clinical trials with investigational drugs, new indications in approved drugs and health products, as well as comparative studies on health interventions.
Trials with innovative therapies (monoclonal antibodies, iRNA, antisense oligonucleotides, etc.)
Evaluation of the clinical impact and the quality of care of new models of patient care management through the inclusion of electronic consultations (e-consultation) in outpatient care programs
Publications
Rey-Aldana D, Cinza-Sanjurjo S, Portela-Romero M, López-Barreiro JL, Garcia-Castelo A, Pazos-Mareque JM, Mazón-Ramos P, González-Juanatey JR. Universal electronic consultation (econsultation) program of a cardiology service. Long-term results. Rev Esp Cardiol (Engl Ed). 2022 Feb;75(2):159-165. doi: 10.1016/j.rec.2020.11.017. Epub 2021 Feb 9. PMID: 33579644.
Virgós Lamela A, González-Juanatey JR. Clinical management in cardiology. Extended hospitalization. Rev Esp Cardiol (Engl Ed). 2022 Jan 17:S1885-5857(21)00384-4. doi: 10.1016/j.rec.2021.12.007. PMID: 35058222.
Agra-Bermejo RM, Cacho-Antonio C, Gonzalez-Babarro E, Rozados-Luis A, Couselo-Seijas M, Gómez-Otero I, Varela-Román A, López-Canoa JN, Gómez-Rodríguez I, Pata M, Eiras S, González- Juanatey JR. A New Biomarker Tool for Risk Stratification in "de novo" Acute Heart Failure (OROME). Front Physiol. 2022 Jan 13;12:736245. doi: 10.3389/fphys.2021.736245. PMID: 35095543; PMCID: PMC8793744.
Moscoso I, Cebro-Márquez M, Martínez-Gómez Á, Abou-Jokh C, Martínez-Monzonís MA, Martínez-Sande JL, González-Melchor L, García-Seara J, Fernández-López XA, Moraña-Fernández S, González-Juanatey JR, Rodríguez-Mañero M, Lage R. Circulating miR-499a and miR-125b as Potential Predictors of Left Ventricular Ejection Fraction Improvement after Cardiac Resynchronization Therapy. Cells. 2022 Jan 13;11(2):271.

doi: 10.3390/cells11020271

. PMID: 35053387; PMCID: PMC8773679.
Rey-Aldana D, Mazón-Ramos P, Portela-Romero M, Cinza-Sanjurjo S, Alvarez-Alvarez B, Agra-Bermejo R, Rigueiro-Veloso P, Espasandín-Domínguez J, Gude-Sampedro F, González-Juanatey JR. Longer-Term Results of a Universal Electronic Consultation Program at the Cardiology Department of a Galician Healthcare Area. Circ Cardiovasc Qual Outcomes. 2022 Jan;15(1):e008130. doi: 10.1161/CIRCOUTCOMES.121.008130. Epub 2022 Jan 18. PMID: 35041483.
Cinza Sanjurjo S, Mazón Ramos P, Iglesias Álvarez D, Rey Aldana D, Portela Romero M, González-Juanatey JR. Longer-term results of the cardiology e-consult program in patients with heart failure. Rev Esp Cardiol (Engl Ed). 2022 Jan;75(1):93-95. English, Spanish. doi: 10.1016/j.rec.2021.07.013. Epub 2021 Aug 24. PMID: 34446388.
Cordero A, Fernández Del Olmo MR, Cortez Quiroga GA, Romero-Menor C, Fácila L, Seijas-Amigo J, Fornovi A, Murillo JR, Rodríguez-Mañero M, Bello Mora MC, Valle A, Sandin M, Pamias RF, Bañeras J, García PB, Clemente Lorenzo MM, Sánchez-Alvarez S, López-Rodríguez L, González-Juanatey JR. Sex differences in lowdensity lipoprotein cholesterol reduction with PCSK9 inhibitors in real world patients: the LIPID-REAL Registry. J Cardiovasc Pharmacol. 2021 Dec 27. doi: 10.1097/FJC.0000000000001205. Epub ahead of print. PMID: 34983910.
González Ferrero T, Álvarez Álvarez B, Cordero A, Martinón Martínez J, Cacho Antonio C, Sestayo-Fernández M, Bouzas-Cruz N, Antúnez Muiños P, Casas CAJ, Otero García Ó, Arias FG, Pérez
Dominguez M, Torrelles Fortuny A, Iglesias Álvarez D, Agra Bermejo R, Rigueiro Veloso P, Cid Alvarez B, García Acuña JM, Zuazola P, Escribano D, Lage R, Gude Sampedro F, González Juanatey JR. Early angiography in elderly patients with non-ST-segment elevation acute coronary syndrome: The cardio CHUS-HUSJ registry. Int J Cardiol. 2021 Dec 21:S0167-5273(21)02031-3. doi: 10.1016/j.ijcard.2021.12.028. PMID: 34942303.
Group website