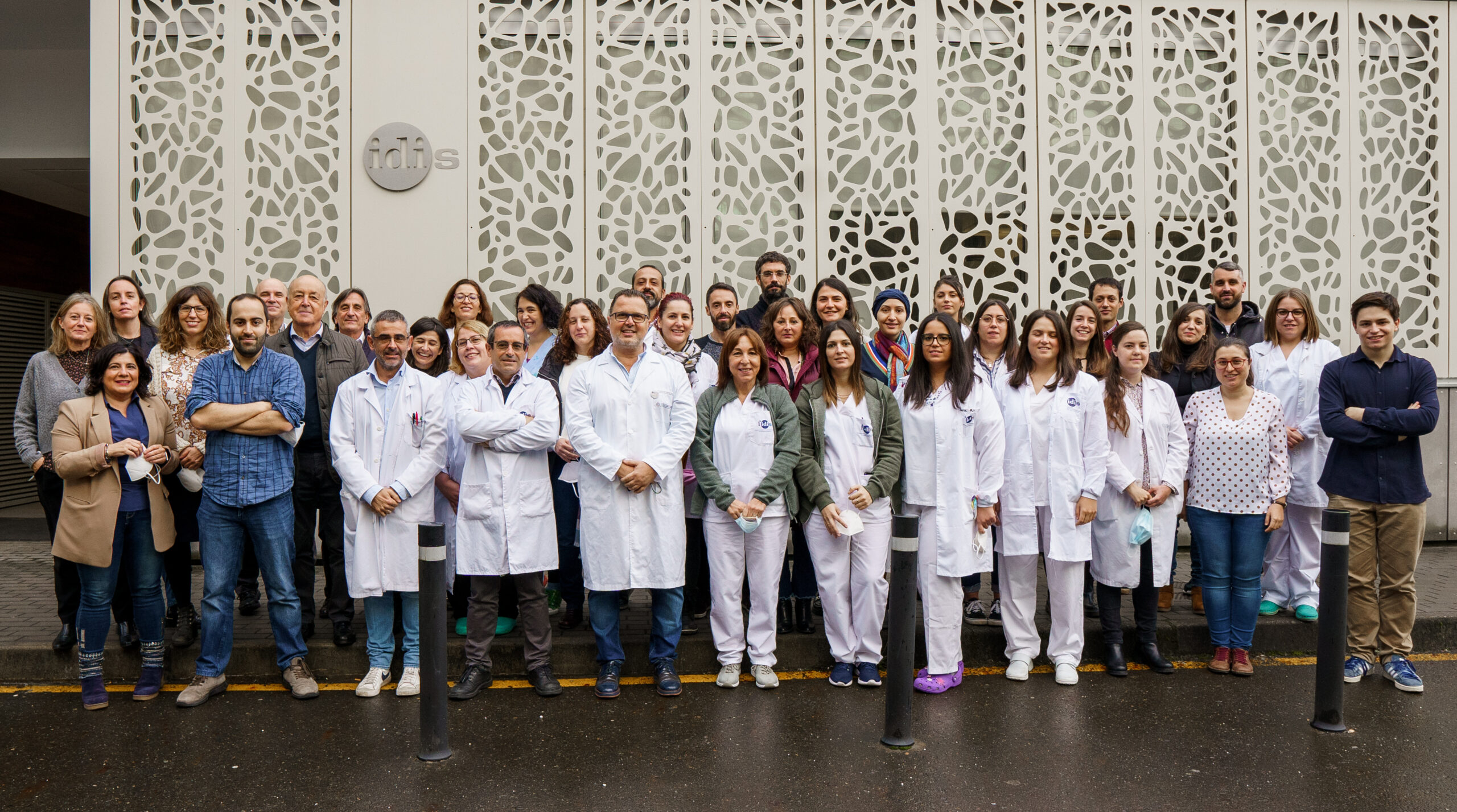 Objectives and lines of research
Objectives
GENVIP is made up of a multidisciplinary team of a transversal nature in the field of basic and applied clinical research that uses the latest technologies and analytical methods from different disciplines to optimize the treatment of pediatric patients. The group is made up of experts in different areas of biomedical research (doctors, nurses, pharmacists, geneticists, biologists, mathematicians, and bioinformaticians), who provide a broad and global perspective.
GENVIP's mission is to advance knowledge of the genetic bases of pediatric infections and contribute to the development of individualized prevention and treatment strategies. The team is led by Professor Federico Martinón-Torres (Head of the Pediatric Service of the University Hospital Complex of Santiago and Head of Pediatrics at the University of Santiago), pediatrician with experience in the clinical area and in research in the field of infectious diseases.
The main potential of the group is the combination and integration of the different views on problems related to health, with the ultimate goal of obtaining the best result for the patient. Thus, due to its experience in the study and management of viral and bacterial infections, the scientific activity of the group is basically translated into the field of pediatric health, mainly through:
• development of individualized action strategies in treatment or prevention
• development of new tools for the detection of biological markers for application in diagnosis and/or prognosis.
• identification of new therapeutic targets
GENVIP has created a Clinical Trials Unit focused mainly on the area of ​​vaccines. This unit channels a large part of the clinical trials carried out in Spain on pediatric vaccines, from phases 1 to 3. In addition, it collaborates with various promoters in the design of protocols and clinical development programs for various vaccine candidates.
Lines of research
Among our most notable RESEARCH AREAS are the following:
• 'Omics' applied to infectious diseases in pediatrics: the main objective of the group is to deepen the knowledge of the pathogenesis of diseases that affect children from different perspectives, through an '-omics' approach. This approach, which involves multiple '-omics' tools (transcriptomics, genomics, epigenomics, etc.), can help to understand the different molecular mechanisms underlying the host response to infection and explore, from various perspectives, whether genomic biomarkers exist. , transcriptomic and / or epigenetic that may be related to the diagnosis, prognosis and evolution of the infection. The GENVIP team has extensive experience in the translational approach to infectious diseases and its applicability for the benefit of the patient. In this regard, GENVIP has contributed with several translational projects to the development of diagnostic tests based on host responses to infection. The study of infectious diseases at GENVIP not only implies stable lines of research in the field, but also includes numerous collaborations with international reference centers such as Imperial College London, Ospedale Pediatrico Bambino Gesu, PENTA Fondazione, the Genomic Institute of Singapore , Rabdoud University, Oxford Gene Technology, ReSVinet, Genomic Systems or the National Children's Hospital of Ohio, among others, as well as with the main Spanish pediatric reference hospitals. GENVIP directs and coordinates numerous national and international multi-centre clinical networks in charge of obtaining samples from patients with different pathologies that affect the pediatric age.
• Vaccinomics and immunogenomics: applying the omic approach to the study of vaccines helps us better understand the individual's response to the different vaccine antigens, discover new protection markers and establish individualized protection strategies through vaccination. The study of its heterologous properties is another of the lines that GENVIP is active in the field of vaccines, specifically focused on BCG, rotavirus and pneumococcal vaccines, but also developing the appropriate models to apply the paradigm to other new vaccines. GENVIP collaborates directly with the World Health Organization (WHO) in Europe in scheduled interventions and acute crises in the field of vaccines and infectious diseases as a WHO Collaborating Center for Vaccine Safety.
• Bioinformatics and data analysis: the GENVIP group has experts in biology / genetics, bioinformatics and mathematics / statistics with extensive experience in handling genomic, transcriptomic and epigenomic data from high-throughput platforms and Next Generation Sequencing. Within the group, computer applications have been developed, some internal lines for the analysis of genomic / transcriptomic data and predictive bioinformatic models applied to different pathologies.
• Rare childhood diseases: GENVIP has a line of research focused on the study of Progressive Bone Heteroplasia (POH) and heterotopic ossification. PH is an ultra-rare disease that causes extra-skeletal bone formation from mesodermal tissue. There is no effective or preventive treatment for this disease. Using a translational "-omic" approach, we are trying to characterize the disease and identify therapeutic targets that allow us to improve the quality of life of patients.
• Childhood allergic diseases: GENVIP has several open lines of research in this direction, with active studies in pathologies such as asthma or protein-induced enterocolitis syndrome (FPIES projects), which is a common and pathophysiological type of food allergy. little known, potentially lethal, and for which there is no diagnostic test.
Projects
Publications
Gómez-Carballa A, Rivero-Calle I, Pardo-Seco J, Gómez-Rial J, Rivero-Velasco C, Rodríguez-Núñez N, Barbeito-Castiñeiras G, Pérez-Freixo H, Cebey-López M, Barral-Arca R, Rodriguez-Tenreiro C, Dacosta-Urbieta A, Bello X, Pischedda S, Currás-Tuala MJ, Viz-Lasheras S, Martinón-Torres F, Salas A; GEN-COVID study group. A multi-tissue study of immune gene expression profiling highlights the key role of the nasal epithelium in COVID-19 severity. Environ Res. 2022 Feb 22;210:112890. doi: 10.1016/j.envres.2022.112890. Online ahead of print. PMID: 35202626 Free PMC article.
Gómez-Carballa A, Pardo-Seco J, Bello X, Martinón-Torres F, Salas A. Superspreading in the emergence of COVID-19 variants. Trends Genet. 2021 Dec;37(12):1069-1080. doi: 10.1016/j.tig.2021.09.003. Epub 2021 Sep 8. PMID: 34556337 Free PMC article. Review.
Martinón-Torres F, Bertrand-Gerentes I, Oster P. A novel vaccine to prevent meningococcal disease beyond the first year of life: an early review of MenACYW-TT. Expert Rev Vaccines. 2021 Sep;20(9):1123-1146. doi: 10.1080/14760584.2021.1964962. Epub 2021 Sep 1. PMID: 34365870
Martinón-Torres F, Banzhoff A, Azzari C, De Wals P, Marlow R, Marshall H, Pizza M, Rappuoli R, Bekkat-Berkani R. Recent advances in meningococcal B disease prevention: real-world evidence from 4CMenB vaccination. J Infect. 2021 Jul;83(1):17-26. doi: 10.1016/j.jinf.2021.04.031. Epub 2021 Apr 30. PMID: 33933528 Review.
Broset E, Pardo-Seco J, Kanno AI, Aguilo N, Dacosta AI, Rivero-Calle I, Gonzalo-Asensio J, Locht C, Leite LCC, Martin C, Martinón-Torres F. BCG vaccination improves DTaP immune responses in mice and is associated with lower pertussis incidence in ecological epidemiological studies. EBioMedicine. 2021 Mar;65:103254. doi: 10.1016/j.ebiom.2021.103254. Epub 2021 Mar 9. PMID: 33711798 Free PMC article.
Gómez-Rial J, Currás-Tuala MJ, Rivero-Calle I, Gómez-Carballa A, Cebey-López M, Rodríguez-Tenreiro C, Dacosta-Urbieta A, Rivero-Velasco C, Rodríguez-Núñez N, Trastoy-Pena R, Rodríguez-García J, Salas A, Martinón-Torres F. Increased Serum Levels of sCD14 and sCD163 Indicate a Preponderant Role for Monocytes in COVID-19 Immunopathology. Front Immunol. 2020 Sep 23;11:560381. doi: 10.3389/fimmu.2020.560381. eCollection 2020. PMID: 33072099 Free PMC article.
Madhi SA, Polack FP, Piedra PA, Munoz FM, Trenholme AA, Simões EAF, Swamy GK, Agrawal S, Ahmed K, August A, Baqui AH, Calvert A, Chen J, Cho I, Cotton MF, Cutland CL, Englund JA, Fix A, Gonik B, Hammitt L, Heath PT, de Jesus JN, Jones CE, Khalil A, Kimberlin DW, Libster R, Llapur CJ, Lucero M, Pérez Marc G, Marshall HS, Masenya MS, Martinón-Torres F, Meece JK, Nolan TM, Osman A, Perrett KP, Plested JS, Richmond PC, Snape MD, Shakib JH, Shinde V, Stoney T, Thomas DN, Tita AT, Varner MW, Vatish M, Vrbicky K, Wen J, Zaman K, Zar HJ, Glenn GM, Fries LF; Prepare Study Group. Respiratory Syncytial Virus Vaccination during Pregnancy and Effects in Infants. N Engl J Med. 2020 Jul 30;383(5):426-439. doi: 10.1056/NEJMoa1908380. PMID: 32726529 Free PMC article. Clinical Trial.
Martinón-Torres F, Rusch S, Huntjens D, Remmerie B, Vingerhoets J, McFadyen K, Ferrero F, Baraldi E, Rojo P, Epalza C, Stevens M. Pharmacokinetics, Safety, and Antiviral Effects of Multiple Doses of the Respiratory Syncytial Virus (RSV) Fusion Protein Inhibitor, JNJ-53718678, in Infants Hospitalized With RSV Infection: A Randomized Phase 1b Study. Clin Infect Dis. 2020 Dec 17;71(10):e594-e603. doi: 10.1093/cid/ciaa283. PMID: 32201897 Free PMC article. Clinical Trial.