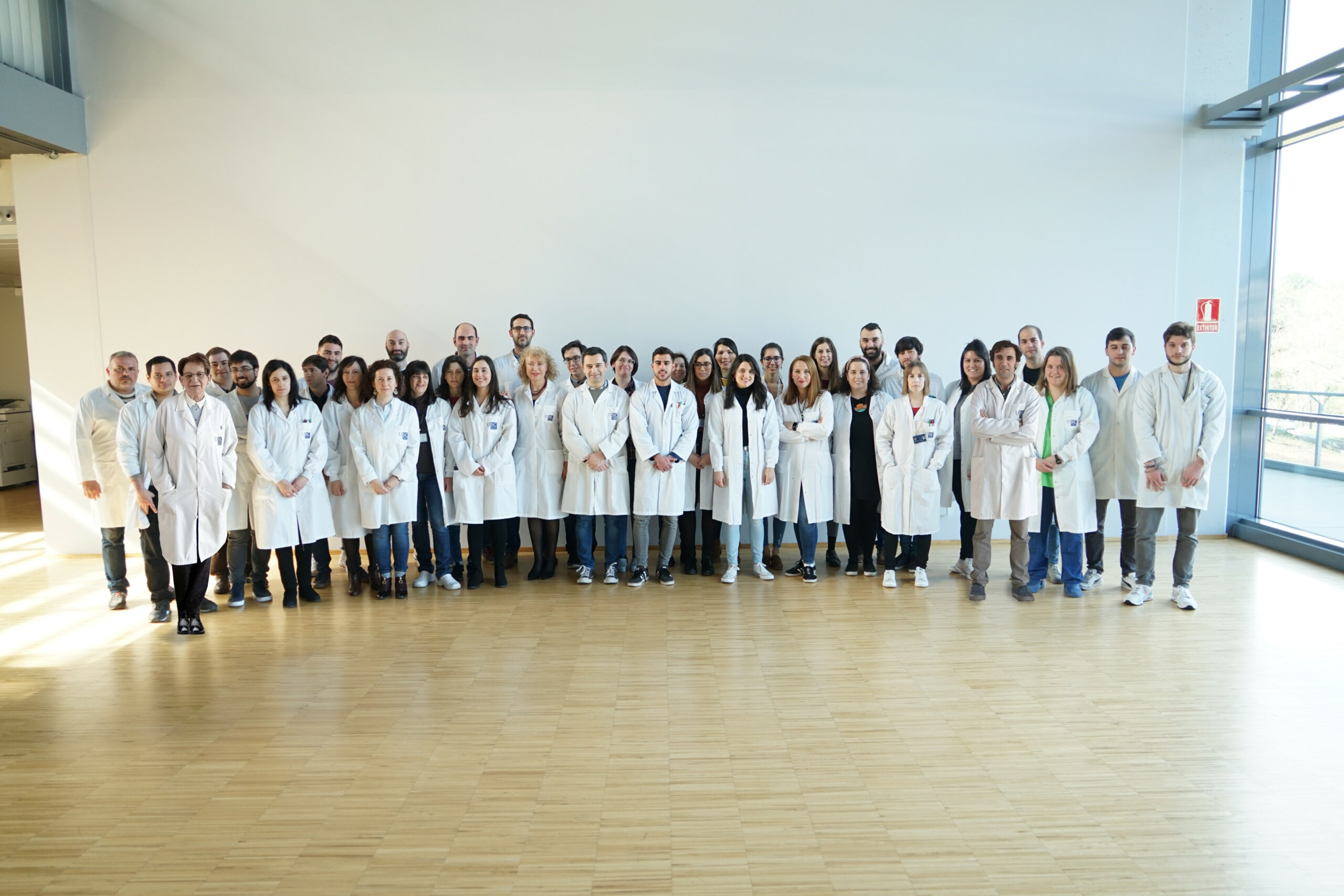 Objetivos y líneas de investigación
Objetivos
El grupo de investigación BioFarma tiene una trayectoria contrastada en investigación aplicada a descubrimiento temprano de fármacos en colaboración con la industria biotecnológica y farmacéutica. BioFarma está involucrado en los modelos de innovación abierta que se han implantado en el sector farmacéutico en los últimos años y que han permitido un aumento significativo de la colaboración público-privada.
BioFarma es uno de los Centros de Cribado de Alta Capacidad del Consorcio de Infraestructuras de investigación europeo ERIC EU-OPENSCREEN (Infraestructura Europea de Plataformas de Cribado Abiertas para la Biología Química). Cuenta con un grupo humano de más de 30 profesionales que incluye doctores en farmacia, medicina, biología y química, así como farmacéuticos, químicos y biólogos, técnicos de laboratorio, etc. Este grupo humano tiene una amplia experiencia en los diferentes aspectos del desarrollo de ensayos, miniaturización de ensayos, diseño y ejecución de cascadas de cribado, paneles in vitro de seguridad, ADME, etc. Es un equipo multidisciplinar internacional con expertos en constante adaptación a las nuevas tecnologías, lo que permite una gran robustez en los resultados obtenidos.
Líneas de investigación
G-Protein coupled receptors
Pharmacology in translational research.
Fine-tuning and miniaturization of techniques for High Throughtput Screening (HTS)
Publicaciones
Martínez AL, Brea J, Monroy X, Merlos M, Burgueño J, Loza MI. A New Model of Sensorial Neuron-Like Cells for HTS of Novel Analgesics for Neuropatic Pain. SLAS Discovery 2019 Feb;24(2):158-168. doi: 10.1177/2472555218810323.
Perez Mato M, Iglesias Rey R, Vieites Prado A, Dopico Lopez A, Argibay B, Fernçandez Susavila H, da Silva Candal A, Perez Diaz A, Correa Paz C, Günther A, Avila Gómez P, Isabel Loza M, Baumann A, Castillo J, Sobrino T, Campos F. Blood glutamate EAAT2-cell grabbing therapy in cerebral ischemia. EBioMedicine, 2019 Jan; 39:118-131. doi: 10.1016/j.ebiom.2018.11.024
Triana-Martínez F, Picallos-Rabina P, Da Silva-Álvarez S, Pietrocola F, Llanos S, Rodilla V, Soprano E, Pedrosa P, Ferreirós A, Barradas M, Hernández-González F, Lalinde M, Prats N, Bernadó C, González P, Gómez M, Ikonomopoulou MP, Fernández-Marcos PJ, García-Caballero T, Del Pino P, Arribas J, Vidal A, González-Barcia M, Serrano M, Loza MI, Domínguez E, Collado M. Identification and characterization of Cardiac Glycosides as senolytic compounds. Nat. Commun. 2019 Oct 21;10(1): 4731.
Mallo-Abreu A, Prieto-Diaz R, Jespers W, Azuaje J, Majellaro M, Velando C, García-Mera X, Caamaño O, Brea JM, Loza MI, Gutiérrez-de-Terán H, Sotelo E. Nitrogen-Walk Approach to Explore Bioisosteric Replacements in a Series of Potent A2B Adenosine Receptor Antagonists. J Med Chem. 2020 Jul 23;63(14):7721-7739. doi: 10.1021/acs.jmedchem.0c00564. Epub 2020 Jul 7
Kampen, Stefanie; Duy Vo, Duc; Zhang, Xiaoqun; Panel, Nicolas; Yang, Yunting; Jaiteh, Mariama; Matricon, Pierre; Svenningsson, Per; Brea, Jose; Loza, Maria Isabel; Kihlberg, Jan; Carlsson, Jens. Structure-Guided Design of G-Protein-Coupled Receptor Polypharmacology. Angewandte Chemie-International Edition, Jul 2021. doi: 10.1002/anie.202101478.
Martínez AL, Brea J, Rico S, de Los Frailes MT, Loza MI. Cognitive Deficit in Schizophrenia: From Etiology to Novel Treatments. Int J Mol Sci. 2021 Sep 14;22(18):9905. doi: 10.3390/ijms22189905.
Web del grupo