Equipment
ExoViewTM R200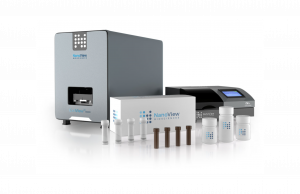 The platform at a glance:
Detection of Extracellular Vesicles (exosomes)
Does not require purification
Extracellular vesicle size
Fluorescence
Biomarker colocalization
Customizable exosome detection
Check the specifications here.
Description
The ExoView platform is based on single particle interferometric reflectance imaging sensor SP-IRIS technology providing a compact multi-parameter solution for the capture and analysis of Extracellular Vesicles (EVs)/exosomes, nanoparticles functionalized and viruses. It allows capturing VEs, measuring size (nm) by means of visible light interference, and quantifying by fluorescence the number of vesicles with specific antibodies and/or on demand in small functionalized chips using very little sample (just a few µl) in any biological fluid (plasma, serum, urine, CSF, etc) and secretomes. It allows performing in a single analysis the size, quantity, and protein profile of both membrane and intravesicular proteins; it also allows the detection and analysis of exosomal RNAs using fluorescent probes.
The rediscovery of extracellular vesicles (EVs) and their role in normal and pathological physiology is changing the paradigm in many aspects of biomedical research. EVs include vesicles of variable size and origin (30-1000 nm); thus, those originated by evagination of the plasmatic membrane are known as microvesicles (100 nm-1μm) and those assembled in multivesicular endosomes and secreted by exocytosis (30-100 nm), exosomes. Therefore, these vesicles are potentially present in all biological fluids where they travel to neighboring or distant organs. The interest in EVs, and exosomes in particular, has intensified exponentially in recent years due to their ability to transport a variety of bioactive molecules such as lipids, proteins, DNA and RNA, which makes them especially interesting since they allow activating receptors. and signaling pathways in a target cell or tissue, and transfer molecules, as well as playing a role in the post-transcriptional regulation of mRNA expression through epigenetic mechanisms such as miRNAs that induce changes in the protein expression of a large number of genes and the modulation of DNA methylation. Recent studies suggest that the mechanism of EV uptake by target cells can be regulated, since the vesicles can contain specific target molecules, with some degree of specificity towards recipient tissues. In addition, EVs can also undergo transcytosis that allows them to cross the blood-brain barrier and gain access to the CNS. As the molecular composition of EVs reflects physiological and pathophysiological changes in the cell or tissue of origin, EVs also have great potential as biomarkers for disease diagnosis.
Services
TYPES OF ANALYSIS
A. TETRASPANIN KIT- DETECTION OF TETRASPANINS PROFILE (CD9/CD81/CD63):
a. CUSTOM CARGO/MEMBRANE PROTEIN IDENTIFICATION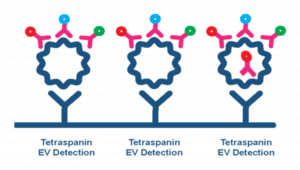 B. EXOFLEX KIT-CUSTOMIZED CAPTURE OF EXTRACELLULAR VESICLES (EXOSOMES)
a. CUSTOM CARGO/MEMBRANE PROTEIN IDENTIFICATION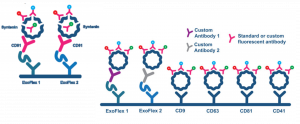 Check the specifications here.
María Pardo Pérez
PI Obesidomics group (IDIS E023), member of the Spanish Group for Innovation and Research in Extracellular Vesicles (GEIVEX), and of the Network: "Translational NeTwork for the CLinical application of Extracellular VesicleS, TeNTaCLES"
e-mail: maria.pardo.perez@sergas.es
Teléfono: +34 981955071 (ext. 255071)
Nerea Lago-Baameiro, predoctoral researcher IDIS E023
e-mail: nerealagobaameiro@gmail.com
Tamara Camino Martínez, postdoctoral researcher IDIS E023
e-mail: tamara_cm_10294@hotmail.es