managers and sponsors specialized in biomedical research
Platform for direct molecular detection (Nanostring)
Contact
Alberto Gómez Carballa
The nCounter® analysis system allows you to analyze hundreds of mRNAs, miRNAs, SNV, CNV or proteins directly by direct digital molecular detection, in a single reaction in the absence of enzymes (with no reverse transcription or amplification). This is a highly sensitive and reproducible system with a great multiplexing capacity (up to 800 genes in the same reaction), which not only reduces the number of necessary reactions, but also enables savings in the amount of RNA/DNA required for the trial. In this technology, each target molecule is identified by a molecular "barcode" which contains the sequential combination of six fluorochrome units of four different colours. These barcodes hybridize directly with the relevant molecules and may be individually quantified with no need to increase the size of the samples.
This technology has a great number of potential applications in different fields of clinical research:
Gene expression: by means of the many pre-designed panels (12 samples), as well as by means of the possibility of designing user-customized panels with relevant targets (up to 800 targets).

Panels related to the study of cancer, related to the expression of genes involved in immunological, inflammatory and neurodegenerative routes both in human and in mice and rats.
miRNAs: 800 most biologically relevant miRNAs
lncRNA: Customized panel of up to 800 lncRNA. They can be combined with mRNA for simultaneous analysis or to study IncRNA-protein interactions (immunoprecipitation).

DNA: Copy Number Variation (CNV).
ChIP-String: Study of how DNA interacts with proteins to regulate gene expression.
Proteomics.
Services
Support and advice regarding experiment design and protocol development.
Purchase of reagents, CodeSets and cartridges required to carry out the experiment.
Collection and processing of 12 samples by cartridge, hybridation and analysis using nCounter SPRINT equipment.
CSV file with raw data exported from the equipment and standardized data.
Advice on data analysis.
Current fees (without VAT)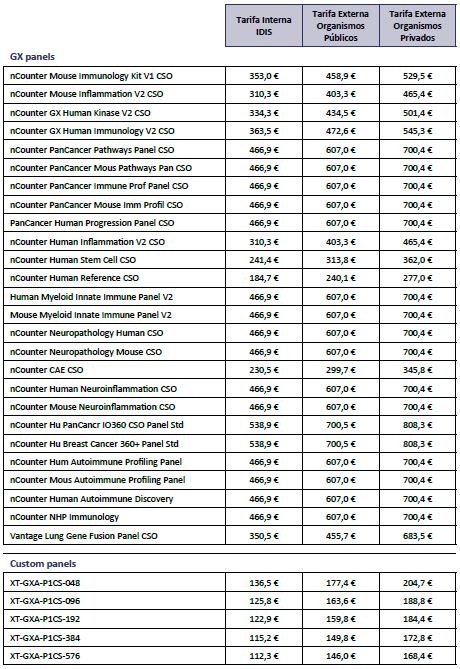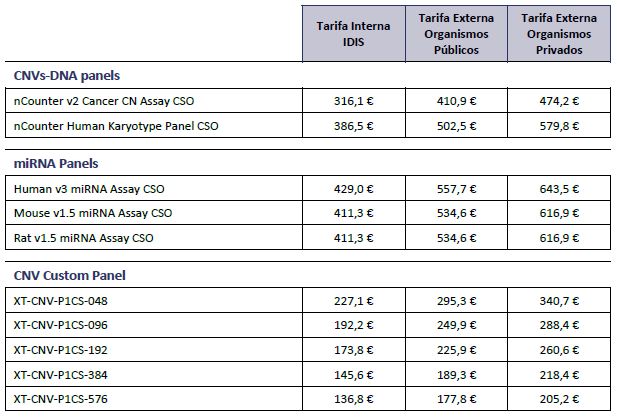 Contact Us
Would you like more information? Please feel free to contact us by filling out our form